Birth date - 27th / August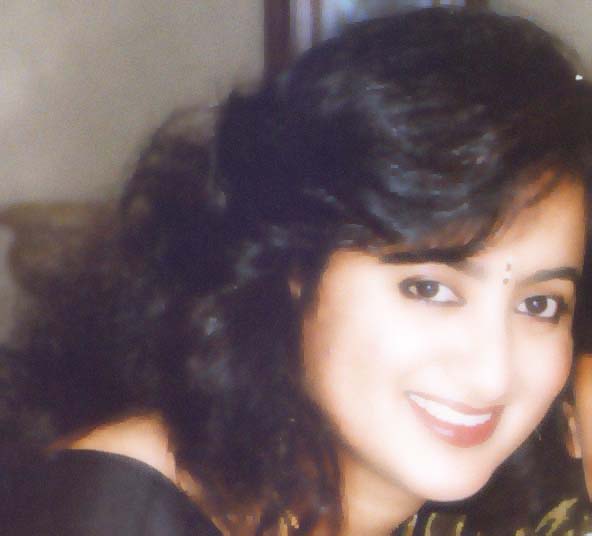 Place - Chennai , Tamilnadu .
Mother tongue- Telugu
Father's name- V . Madan Mohan
Mother's name - V.Roopa Mohan
Native Place - Guntur , Andhra Pradesh .
My first film "DISAI MARIYA PARAVAIGAL", produced by Mr.P.S. Veerappa and directed by a new director Jagadheeshan was about a brahmin girl,who due to circumstances becomes a nun . It was a very unconventional theme and was a successful film and fetched me the "BEST NEW FACE AWARD" also.
After the success of this film I acted in several Tamil , Malayalam , and Kannada films . My first break in Telugu was "RAJADHIRAJU" directed by BAPU who has made some beautiful movies in Telugu & Hindi and is an actor's dream come true! But the film that gave me my first taste of success was "SHUBALEKHA", directed by Mr.K.Vishwanath [SHANKARABARANAM fame], one of the greatest directors of our times. It co-starred CHIRANJEEVI , also an upcoming star then and had a very socially relevant theme-the evils of dowry . I played a lecturer who opposes this system and opts to marry a poor waiter instead . The film was a runaway hit and I was nominated for the FILMFARE BEST ACTRESS AWARD that year[1982] ! Later I had the fortune of doing three more films under the great director's baton. My career best role and the one which I won the Andhra Pradesh State BEST ACTRESS AWARD was one of them. Titled "SHRUTILAYALU",[which ,by the way , was my 100th film]. The film released in 1987 was a success with the classes,masses and the critics as well.
Around the same time I was lucky enough to do a number of good,meaningful roles in the Malayalam cin-field.I worked with directors like Padmarajan, Barathan, Joshi,Sibi Malayil, Mohan, Kamal, etc considered the top directors then.
In many ways 1987 was a watershed year for me. The movie "NEW DELHI"[Malayalam]"in which I had acted was an unprecedented hit and I got the most prestigious "FILM CRITICS AWARD" for that film . It was remade in Telugu, Kannada and Hindi and I set a record by acting in all the versions .
This was quite a big achievement for a girl who had entered the film-field at the age of 15 years reluctantly and without any ambitions but to act in one film with KAMALHASAN !! Well, unfortunately the only film I acted with him [a bilingual film named "RAJA ENNAI MANNITHU VIDU" ] never got completed.
But I did films with all the top heroes in all the 4 South languages like Rajinikanth , Chiranjeevi , Balakrishna, Mammootty , Mohanlal, SharathKumar, Prem Nazir ,Akkineni Nageshwar Rao, Rajkumar, Vishnuvardhan , Ambrish , Anant Nag,Shankar Nag, Jeetendra , Mithun Chakravarthy , Dharmendra , Sunjay Dutt etc.
I also acted with directors like Bharthiraja , Bapu, K.Vishwanath , Jandyala and a lot of good director .
I have acted in nearly 165 films in a career spanning only 11 years . Out of this 75 were Telugu films, 50 Malayalam, 20 Kannada and the rest were Tamil and Hindi.But Malayalam films were really the ones which gave me immense satisfaction. It heartens me even today to see people coming up and complimenting me on some of my performances , when I go abroad, to places like the US,UK and the gulf countries . It's been quite some years, since I got married to AMBRISH[also a costar from Kannada film industry] and I am the mother of a bright,young son now . But the response from the people is more rewarding than any awards or hit films .
Awards list:

DEVAR'S BEST NEW FACE
DISAI MARIYA PARAVAIGAL
1980
TAMIL
AP STATE BEST ACTRESS
SHRUTILAYALU
1988
TELUGU
FILM FANS
"
1988
"
FILM CRITICS
NEW DELHI & THOOVANA THUMBIGAL
1988
MALAYALAM
LUX AWARDS
NEW DELHI
"
"
FILM CRITICS
ISABELLA,
1989
"
FILM FANS
NEW DELHI
1989
HINDI